Introducing our online MSK Education Series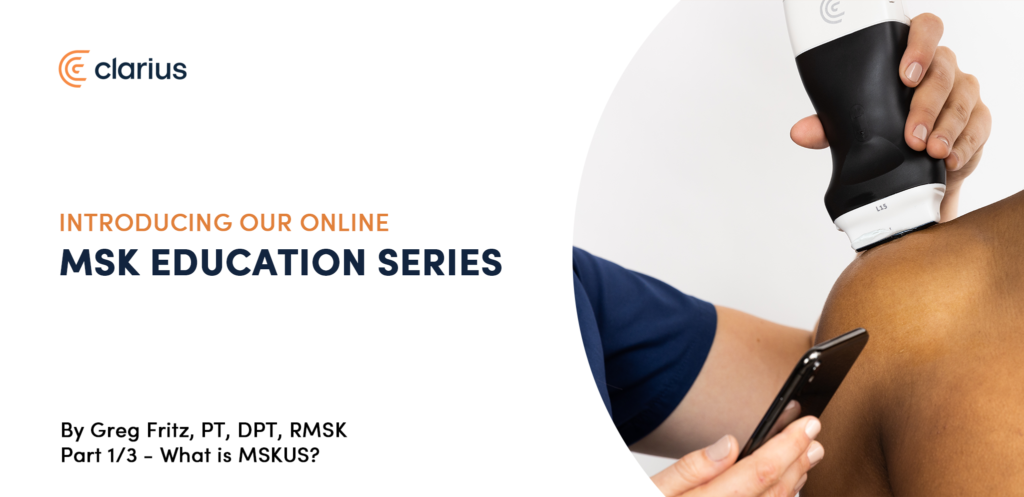 By Greg Fritz, PT, DPT, RMSK
Clarius is partnering with MSK ultrasound Imaging pioneer Greg Fritz, PT, DPT, RMSK, to deliver online presentations to help clinicians update and refine MSK imaging skills.
---
Greg was one of three physical therapist recipients in the nation who earned a Pioneer Certificate in Musculoskeletal Ultrasound Imaging (RMSK) in Washington State. He believes ultrasound imaging is pivotal in the correct management and diagnosis of many orthopedic injuries. Greg regularly lectures at the University of Washington and trains other interested clinicians in the use of musculoskeletal ultrasound (MSKUS) in their practices. He is on the faculty of a distinguished Regenerative Medicine/Orthobiologics innovator (Don Buford, MD).
---
Introduction to MSK Ultrasound – Video Chapters
This first presentation offers a foundation on basic MSK Ultrasound. We've broken the presentation into chapters to help you quickly navigate to your area of interest.
Introduction (0:00-0:18)
MSK Ultrasound – What is it?
Common Imaging Modalities (0:18-5:00)
The difference between Summation Imaging & Tomographic Imaging.
Scanning the Posterior Shoulder (5:00-7:46)
Ultrasound anatomy is tomographic imaging in real-time.
MSK Ultrasound Physics (7:46-11:43)
Breakdown of how ultrasound works with regards to depth, frequency and echo reflection intensity.
Echotexture (11:43-20:14)
Hyperechoic, anechoic and tissue specific echotexture with examples of tendons, muscles and nerves.
Case Study (20:14-25:00)
Walkthrough a case with patient presenting wrist pain from diagnosis, screening, anatomy and results.
Summary (25:00-27:15)
Reviewing the benefit that ultrasound provides to physical therapists.
Next Episode (27:15-27:50)
Why should I consider using MSK Ultrasound?
---
More about Greg Fritz, PT, DPT, RMSK Greg has more than thirty years of experience as a physical therapist. A student of anatomy and movement science, Greg continues to be fascinated by the human body and his professional interests include musculoskeletal ultrasound imaging in physical therapy, job-site ergonomics, industrial injury prevention, fibromyalgia, TMJ/Jaw pain, balance training and sports/orthopedic rehabilitation.