Clarius Portable Ultrasound User Reviews
All
Anesthesia
Breast
EMED
EMS
Global Health
Interventional
Med School
OB/GYN
Pain Management
Pediatrics
Plastic Surgery
Primary Care
Radiology
Research
Sports Medicine
Veterinary
Wellness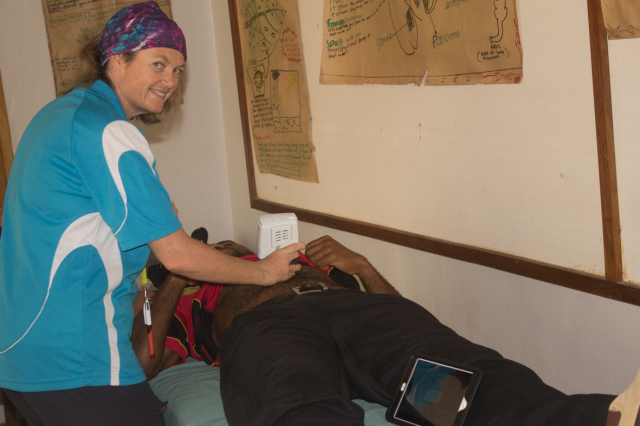 Sharyn Moodie
, ASAR
Bridging Health
The Clarius system was like the members of our team- versatile, friendly and hard-working. The two batteries supplied (one for each probe) were reliable and lasted well. I didn't run out of battery at any stage, and was able to recharge easily each night at our accommodation. The fans in the probes worked overtime to keep the expensive equipment running, as we sometimes worked in hot rooms with no overhead fans. But they didn't overheat. I loved the freedom of working without cords, and the system was easy to use and intuitive.
Petter Tonseth
, MD
Biri, Northern Samar, Philippines
The International Surgical Missions team has brought equipment which they have left on Biri Island for the past 14 years. Bringing the Clarius device was the only type of medical imaging that this team has had in this area of Northern Samar. It became clear on day one that having an ultrasound was going to make a huge difference in terms of assessing patients preoperatively to either confirm a diagnosis or in some cases to make a diagnosis. We were able to allow the surgeon to go in knowing that they were nowhere near the dangerous structures. That scenario played itself out over and over again in our two-week mission. Going forward, it will be essential for this surgical mission to have access to ultrasound on every level – during triage, peri-operatively and certainly in the post-op pain relief scenario.
The portability, ease of use, and ease of sending images/video loops for referral is simply incredible to have in conditions like these. The quality of the images is also incredibly high. Kudos to the team who developed such an incredible new medical technology, I think it will be very successful!
I really like how quick and easy it is to access and it doesn't take up a lot of space. The image quality is really good; I can see nerves, muscles and joint spaces. I can see everything I need to see and it's super-fast to set it up. It's super simple and portable.
Debjeet Sarkar
, MD
Rohingya Refugee Camp, Bangladesh
The Clarius C3 scanner helped a lot with the obstetrics cases during my mission to Bangladesh. The wireless feature is unique and distinctive and a lot of the younger residents in the United States are excited about that. The support has been fantastic; that's a really important thing to have.
I have a personal and academic interest in wilderness ultrasound, often teaching it to people who work in remote austere environments with little resources. The fact that it's wireless makes it really easy to use and bring with me anywhere. The ability to put it in my backpack and bring it to any lecture has made teaching ultrasound super easy and really effective. The scanner definitely has the best image quality I've seen for such a portable device.
Geoff Sanz
, MD
Emergency Medicine
As an emergency physician inside and outside the hospital, I encounter various degrees of trauma. I can carry Clarius wherever I go to help me triage patients more quickly.
Shane Arishenkoff
, MD, FRCPC
Vancouver, BC, Canada
With no cords and portable size, the Clarius device will be very easy to bring to the bedside and to go from one patient to the next. I'm impressed with the ability to use the convex transducer as a phased array to capture very good cardiac images. It's convenient to use one scanner for the abdomen, lungs and the heart.
It was very easy to use. I did a lot of OB measurements and I was just learning them as I was doing it. It's every ultrasound tech's dream. It's so much freedom [without wires] and the image is perfect on my iPhone. I would put the iPhone on my knees and I would go with my left hand and I would just adjust the gain and depth. I loved how I would put my finger on it and all of a sudden, an eclipse appeared for abdominal or head circumferences.
Edmond Lou
, PhD., P.Eng
University of Alberta
The portability, ease of use, and the high-quality imaging is what I love about the Clarius Scanner. As an engineer, I like their research package. With the availability of the raw data, a streaming API and 3D positional information, I am able to build custom software to reconstruct 3D images. The technical support and development team is excellent in response to user questions and demand. I recommend the unit to both clinical staff colleagues and researchers.
Johann Berger, Michael Unger and Andreas Melzer Innovation Center Computer Assisted Surgery
The wireless Clarius ultrasound imaging device offers perfect features for application at flexible robotic systems like the KUKA LBR iiwa 7. Robotic systems allow the positioning of different end effectors in a precise way and in environments difficult to reach for humans. In our setup, the Clarius L7 and C3 devices have been used together with a virtual reality tablet application for robotic positioning of Clarius guided of biopsy needles and ablation probes. The new research interface is of great help to facilitate the project work and a feature that conventional Ultrasound systems do not provide
Dr. Reinhard Schernthanner ArcheMed
For the first time I have been part of the pediatric urology team which visited Asmara in November 2018. We treated a lot of little patients this week with urological disorders. More than 40 children underwent open surgery and I could provide the ultrasound guided regional anesthesia for postoperative pain treatment.
Though there were some US machines available, only the outstanding picture quality of my Clarius L7 made TAP blocks possible. This worked better I expected and made happy patients and a happy me. As I took my scanner in the hand luggage there were no additional costs to the team, which is very important in this missions because we try to give the best standard in care in this very poor country and therefore we have to take many necessary things with us. For me as an anesthetist, ultrasound is necessary to provide good analgesia and whenever I go back to Africa I surely will take my Clarius with me. For more info on our projects please check out www.archemed.org and www.kinderurologie-eritrea.at.
Dr. James Edward EM Global
TPC is a community hospital near Moshi, Tanzania. There is no CT scanner and it can be 40 mins – one hour of a drive to the nearest facility with CT capability. 12 physicians successfully participated in skills-based, systematic introductory ultrasound course at TPC hospital that facilitated their ability to detect pathology such as peritoneal free fluid in trauma and pericardial effusions. During one day of training, two busses collided with 80 passengers involved. The course participants were able to put their new skill set to work immediately to diagnose and rule out internal injuries that would not have been possible to visualize in a timely manner without portable ultrasound.
Point of care ultrasound helps us in determining if the patient has a pneumothorax or an internal hemorrhage. It will also help us in cardiac arrest management. It's durable, it's portable and it's really user friendly. It will connect with iOS and Android, so it works very well with all of our devices. My plan has always been that we want to be a resource for the community. Anyone in a remote setting, if they need help, we would like to be there for them.
It has automated presets for vet and it's very simple to use. The features like pinch to zoom, freeze frame and automatic gain adjustment are just so good. The convenience and simplicity of it is why it will sell so well. You can pull it out, turn it on and away you go – no connecting cables. Compared with the other ultrasounds on the market for the quality you get with it, it is incredibly affordable. Out of 10, I am giving it a 9.4.
David Rosenblum
, MD
Interventional Pain Management
Wireless ultrasound enables me to focus more on my patient without having wires get in the way of my nerve block. It's a neat gadget that can be versatile. You can carry it from office to office, put it in your lab coat and use it on pain rounds. The image quality is superior. With the versatility of the iPad and Clarius Cloud, you could do a lot of good work and help a lot of people.
Dr. Peggy Schreiber General Surgeon
We returned from Zambia and had a great trip. We loved the ultrasound machine. We used it to diagnose a post-op bleed and took her back to the OR quickly, did multiple TAP blocks for inguinal hernia repairs and diagnosed a VSD in a newborn, to name of the few of the ways we used it. It worked perfectly.
Michael Friebe
, PhD
Otto-von-Guericke-University, Magdeburg, Germany
Our engineers are working in close collaboration with the university clinicians on the next generation of Image Guided Therapy tools and procedures, as well as on affordable and portable clinical tools for remote areas. Clarius is the ideal base system for our research engineers, as it is very easy to use and provides excellent image quality. Due to its small size and weight, it can be connected to our robots and holding arms, and subsequently be used as a hybrid imaging system in combination with our low-cost X-ray, Endoscopy and CT units. And Clarius has an open architecture that allows image processing and transfer using external custom developed programs and algorithms.
Thomas Plappert
, MD
Senior Emergency Physician and EMS Medical Co-Director, Fulda
Sonography is well established in our emergency departments. As a pre-hospital emergency physician in rescue missions, I use ultrasound to differentiate among the causes of dyspnea, shock, chest pain, or cardiac arrest. I can come to better, and often faster, decisions with ultrasound compared to a history or physical examination for patients in a critical condition. I can also rule out life-threatening issues in many other cases and safely hand over these patients to paramedics or their family physician. Pre-hospital ultrasound adds value to our work, and for many patients, it's the missing link in the chain of survival. And as the first Clarius-users for EMS in Germany, we have hundreds of rescue missions with a brilliant ultrasound on board.
Lori Keeler
, DVM
Willow Park Animal Clinic
We purchased the Clarius ultrasound because it was the most economical and the easiest to use. You don't have to fiddle with a whole lot of settings. You just turn it on and you start your ultrasound.
Phong Vuong
, MD
Port-au-Prince, Haiti
Ultrasound's pretty much the only diagnostic imaging device I can bring down there (Haiti) affordably. Portability was key to this device. The interface is very user friendly and the smartphone & iPad connectivity was intuitive. The support team was very responsive to all my requests and my emails. It was a very prompt set up process and if I had any issues they responded quickly.
Gert-Jan Mauritz
, MD
Holten, Provincie Overijssel, Netherlands
Clarius has amazing image quality for such a small device. It's better than a traditional ultrasound machine because I carry it everywhere in my pocket and it's so easy to use the Clarius App on my phone.
Sophia Ke
, BVSc
Heathmont Animal Hospital
The image quality is excellent and comparable to more expensive machines. Traditionally, vets have had to lug around large ultrasound devices for home or farm visits, but Clarius only weighs about 550g.
Petter Tonseth
, MD
Radiology / Medical Education
The Clarius device is an interesting educational tool because it allows the power of a full ultrasound machine to be in the hands of students. They can have it at the bedside; they can have it in their pocket to have it with them wherever they are. Going forward, I see it being something that they will be able to use on a daily basis on the wards and with patients that they see.
Clarius is the future of patient care. The image quality is amazing for any scanner, much less one that fits in my pocket. The ability to wirelessly connect it to any Apple or Android device means that anyone on my team can use it with whatever they already carry around in their pocket.
Jenna Iberle
, PT, DPT
Creighton University
The image quality is amazing, it's easy to use, and perfect for assessing muscles involved in maintaining continence. The clarity of the images helps with patient education regarding muscle function, and they have a better understanding given visual feedback in real time. The C3 is easy to use, as are the onscreen tools to allow annotation/labeling of structures. Having the ability to record cine loop allows me to assess dynamic muscle function in real time and make informed decisions for my patients.
Div Kumar
, MD
Internal Medicine, Resident
I love the fact that it's cordless. The picture itself is amazing, and I love the fact that I can increase the depth with a simple flick of the finger. As a first time user I was able to figure it out on my own without any guidance.
Kevin Irish
, MD
Radiology
The main pros for using Clarius is its portability and ease of use. There are no cables, no need to find a plug, no need to have a large room to allow for bulky equipment. I literally walk into a room with the patient and can begin scanning.
First and foremost, the high-quality imaging is what I love about the Clarius Scanner. Clarius Cloud makes my life so easy by seamlessly documenting all my exams, images and videos; it is especially useful for OB. In addition to storing my exams for easy access, Clarius Cloud allows me to share and generate reports instantaneously. I like that the scanner and tablet automatically connect without the hassle of entering serial numbers or passwords every time. Lastly, the touchscreen controls on my iPad and iPhone are very intuitive.
Myriam Hughes
, MD
Internal Medicine, Resident
I loved the simplicity of switching on the screen from abdominal to cardiac, obstetric, and lung—even for difficult to scan patients. Clarius saves a lot of time during rounds, especially when there is not a radiologist at hand. There is no comparison between the sharpness and clearness of the image from the Clarius C3 to the other machines, even some portable ones we had available, making this the preferable device during my time overseas.
William Housworth
, MD, MPH
Chenla Children's Healthcare, Kratié Province, Cambodia
The Clarius C3 ultrasound has served my diverse needs exceedingly well. As director of a pediatric project in Cambodia it has the durability and ease of use I need. As an emergency medicine physician in the United States I have found its image quality and functionality meets all of our highest standards there.
I have had multiple trainees and experienced PoCUS users trial the device—they have been impressed with the quality of the imaging—sufficient to answer the point of care clinical questions relevant to General Internal Medicine. My two PGY-1s have the two Clarius C3s, and they are constantly scanning—they are practising because of the availability and portability of the device. In particular, the Cloud has been the game changer for me from an ultrasound education perspective—the auto-upload and ability for annotation and feedback.
Tim Beresford
, MB,BS FRCS
Canterbury District Health Board
I'm loving the Clarius! And so are the patients whom I usually use to hold the iPad while I scan them. It really adds a personal element; rather than them being a subject, they become a participant in their care.
Thomas Cook
, MD
Columbia, South Carolina, USA
Having used Clarius in an educational setting, I am excited about its potential to put ultrasound into the hands of more clinicians. Besides being portable and easy to use, I'm very impressed by the image quality produced by such a compact ultrasound machine.
Steven Holsenback
, DO
Akron, Ohio, USA
The units hold up like a Sherman Tank! I use ultrasound dynamically and scan about 15 times a shift. With the new L7 and the latest software I have had nothing but great success. I beat these units up and they are great.
Johannes Klein
, Prof. Dr. med.
Lübeck, Schleswig-Holstein, Germany
This is modern ultrasound "at its best": mobile, versatile and network-friendly. I am impressed by the intelligent conception including easy-to-handle, "streamlined" possibilities to perform and edit scans and to communicate diagnostic information – ideal also for teaching purposes and compatible with different smart device operating systems. The scanning system allows for the easy integration of images into my practice computer software and, thanks to an excellent image quality including color duplex, is therefore also attractive for my work in an outpatient practice of endocrinology. Technical support and development in response to user questions and demands has been excellent, and I have been told that a future software update will include thyroid volume calculation and extended icon usage options for various presets of the L7 linear scanner – all this leads me to presage myself as a perfectly happy user of the most advanced ultrasound system of its kind.
Greg Hickman
, MD
Andrews Institute Ambulatory Surgery Center
We've been doing intra-articular injections for knee arthroscopies for about 20 years. For about 18-19 years we did them blind. Now with our wireless Clarius Ultrasound Scanner, we can connect to our iPads and iPhones very easily and take it with us anywhere. It travels very well with us wherever we go including the operating room. By being able to see the joint so well, it ensures great access to do our intra-articular injections.
Herbert Schuster
, MD
Berlin, Germany
Clarius is the perfect tool to carry with me on home visits. Because of its portability, I can assess a patient right away and potentially avoid any unnecessary transport to a clinic. Despite its small size, the Clarius scanner has an image quality that is comparable to my standard ultrasound device in practice.
Sana-Ara Ahmed
, MD, FRCPC
The Health Boutique
Within my community-based Interventional Chronic Pain Practice the objective of upholding a "gold standard" for my patients is paramount. The need to go above and beyond the "norm" in patient care led me to search for the best portable ultrasound to be able to accurately diagnose, target and treat chronic pain. When I discovered the Clarius ultrasound, it seemed too good to be true. But, the moment I placed the C3 scanner on a patient and experienced the easy to use mobile interface and saw clear imaging results, I grew confident in my decision to purchase.  My patients benefit greatly from the incorporation of the Clarius ultrasound. I am able to perform targeted and therapeutic peripheral nerve blocks, lumbar prolotherapy, pelvic trigger point therapy, major joint arthritis injections and many more procedures with confidence and ease. Clarius allows my patients to receive treatment from a doctor they trust in one location rather than travel to several different facilities, a difficult feat for someone suffering from chronic pain. The addition of the Clarius Ultrasound is a true breakthrough in my treatment of chronic pain within the community.
Martin Pham-Dinh
, MD
Emergency Medicine
After a few weeks of use, I can tell you that given the time saved and the facility to perform additional examinations, the cost of acquisition is negative. The device gives back more than it costs and the biggest benefit is not monetary; it's the better quality and pleasure of my work.
Rob Park
, MD
General Practitioner
With the appropriate training, these tools could be amazingly useful in a rural area for initial triage of conditions ranging from abdominal aortic aneurysms to broken ribs.
Richard Abrams
, MD
Colorado Preventive Medicine
Technical support from Clarius has been truly remarkable. I've enjoyed acquiring new skills in sonography. I can only hope that all medical students will learn to obtain and read ultrasound images. The Clarius scanner should eventually replace the stethoscope in the pocket of every white coat.
Andrew Ong
, FRACS
Breast & Endocrine Surgeon
The Breast & Endocrine unit at Macarthur Health Service is one of the major oncology units in Sydney, Australia. The technology delivered by the Clarius high-resolution portable ultrasound enhances point-of-care assessments of breast cancer patients in my consulting rooms and the operating suite. I have been proud to offer this world-class technology locally and it has made a positive impact on my surgical practice.