COVID 19: Ultrasonido Clarius para patología pulmonar
Lung ultrasound is being used as a fast and effective alternative to X-Ray and CT, particularly with COVID-19 patients. Clarius handheld ultrasound systems offer the added benefit of easier infection control measures. They can be completely encased and quickly disinfected after an exam as you move from patient to patient. With lung pre-sets on Clarius phased array, curvilinear and linear scanners, you can start scanning within seconds. And with Clarius Telemedicine, you can monitor, guide and review ultrasound exams from a distance.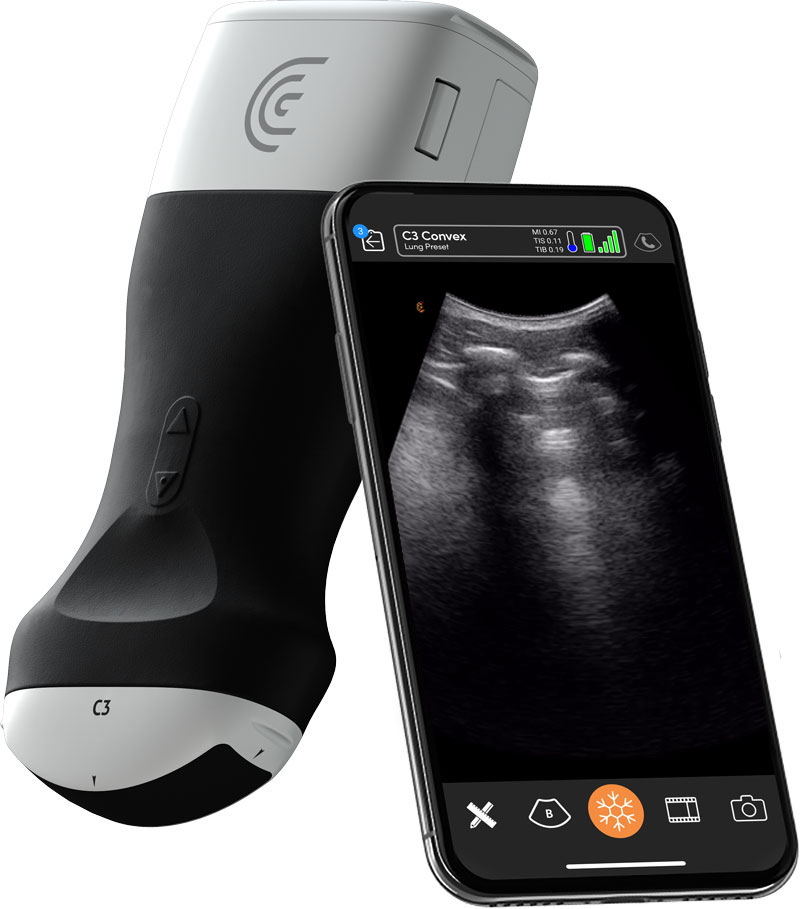 Tutorial de ecografía pulmonar
El Dr. Dan Kim utiliza un ecógrafo portátil Clarius y demuestra cómo examinar los pulmones de un paciente con COVID-19. Además habla sobre la configuración pulmonar, el enfoque sistemático para escanear los pulmones y la interpretación de imágenes pulmonares.
Exámenes de pulmón con ecógrafos Clarius
Following are examples of lung pathology posted on our Clarius Cases community forum.  For comparison, we've posted a clip from an exam of a healthy model.
Jochen Neumann
EPOC
64 años, mujer, hx EPOC; disnea aguda durante dos días; tb inicial 39°C, sono de dolor en el pecho: shred sign -> dx de neumonía no translobar. Ingreso al hospital
Pulmón Saludable
Pulmón de un hombre sano de 27 años. Escaneado con el Clarius HD C3 con preajuste pulmonar.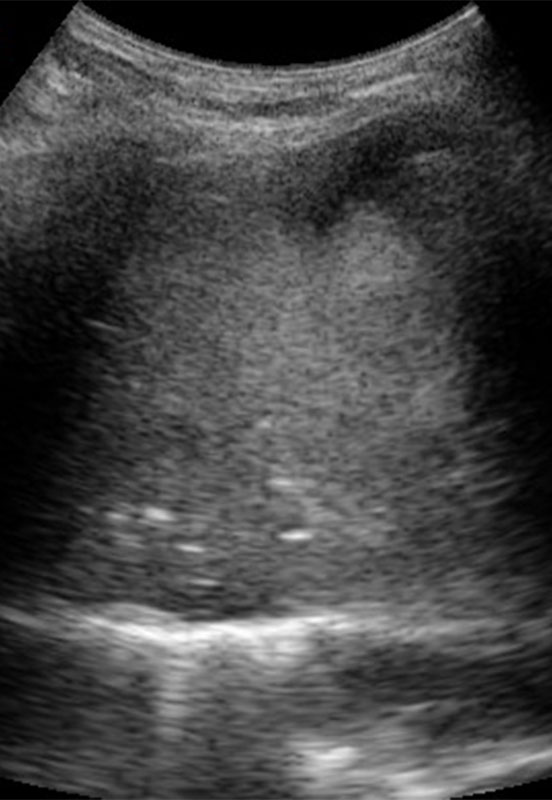 Jochen Neumann
Neumonía
74 años, mujer con disnea durante una semana -> primer uso del escáner C3 y primera colocación en el espacio anterior de la costilla superior izquierda: consolidación con broncograma aéreo positivo - la auscultación fue semi sospechosa en el mejor de los casos. Dx de la neumonía dentro de los 30 s, que de otro modo podría haberse pasado por alto o al menos retrasado. ¡Me gusta!
Dr Shane Arishenkoff
La neumonía lobar del lado derecho actúa como una ventana para visualizar el corazón desde una vista coronal derecha
Paciente con tos, esputo, fiebre e hipotensión. Neumonía lobar derecha grande identificada. Esta es una imagen coronal de la línea axilar posterior derecha. Inicialmente se puede ver el hígado, el diafragma (a la derecha de la imagen) y hepatización pulmonar (a la izquierda de la imagen). A medida que se ajusta el transductor, el haz se dirige por encima del diafragma y solo se ve la hepatización pulmonar. Lo interesante de esta imagen es el hecho de que la hepatización pulmonar actúa como una ventana para visualizar el corazón desde el tórax lateral derecho.
Escaneo pulmonar con un clic
Los siguientes ecógrafos Clarius ofrecen un preajuste automático para el escaneo pulmonar, que permite comenzar a escanear rápidamente.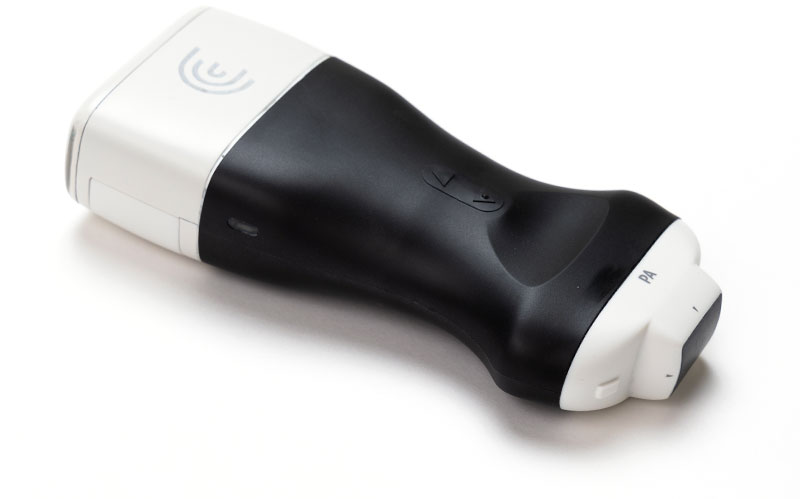 PA HD - Matriz por fases
Pulmonar y Cardiaco
El Clarius PA HD no solo es ideal para examinar el pulmón, también es ideal para exámenes cardíacos
C3 HD - Convexo
Pulmonar, Abdominal, Superficial
Exploración pulmonar, abdominal y vascular ligera.
Incluido con cada ecógrafo
Minimice su exposición gracias a la telemedicina
¿Desea limitar su exposición y estar en más de un lugar a la vez? Con Clarius Live Telemedicine podrá dirigir, monitorear y revisar gran cantidad de exámenes de ultrasonido desde cualquier lugar en tiempo real. Más información.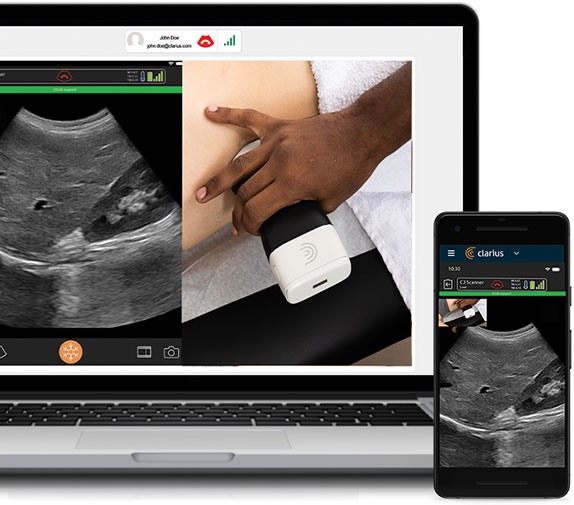 Soluciones flexibles de almacenamiento
Elija dónde almacenar y enviar exámenes desde la App de Clarius
Envíe los exámenes a cualquier servidor compatible con DICOM* o almacene los exámenes en su teléfono. Cada escáner Clarius incluye almacenamiento en la nube y administración de exámenes gratuitos.
*DICOM es una característica premium.
A paper recently published by the World Federation for Ultrasound in Medicine in the Ultrasound in Medicine and ...
Más información

→
Recursos para Covid-19
Recursos externos con información sobre la lucha contra Covid-19 en el lugar de atención.
Prácticas recomendadas para el escaneo pulmonar por COVID-19
An emergency physician's quick guide on using ultrasound in the screening and monitoring of COVID-19.
Journal of Invasive Cardiology
La dilatación ventricular del lado derecho en pacientes hospitalizados con COVID-19 puede ser un indicador de casos de alto riesgo
La ecografía del corazón muestra que la dilatación ventricular del lado derecho puede ser un fuerte indicador de casos de COVID-19 de alto riesgo. Un equipo de médicos de la Escuela de Medicina Icahn en Mount Sinai examinó los registros de salud de 105 pacientes con COVID-19 hospitalizados en Mount Sinai Morningside en la ciudad de Nueva York entre el 26 de marzo y el 22 de abril.
American Academy of Pediatrics
Ultrasonido pulmonar en niños con COVID-19
La evolución reciente en el campo del ultrasonido permite el uso de dispositivos inalámbricos, que, cuando están disponibles, son probablemente el equipo de ultrasonido más apropiado en pacientes con COVID-19 confirmado o sospechado. Tanto la sonda inalámbrica como las tabletas se envuelven fácilmente en cubiertas de plástico desechables, lo que permite procedimientos de esterilización simples y reduce el riesgo de contaminación.
Health Imaging
Ultrasonido pulmonar para COVID-19: médicos expertos proponen nuevos estándares internacionales
A wireless probe and tablet is the most appropriate type of ultrasound equipment to evaluate individuals with the coronavirus, and can be covered in single-use plastic for less contamination risk and easy sterilization. They're also cheaper than traditional machines.
Diagnostic Imaging
COVID-19 y ultrasonido pulmonar: expertos sugieren nuevos estándares internacionales
When scanning patients, they advised, 14 areas - three posterior, two lateral, and two anterior - should be scanned for 10 seconds each. Scans should be intercostal and cover the widest surface area possible in one scan.
ACEPNow
COVID-19 para médicos de emergencias: lo que necesita saber
A medida que los especialistas en salud pública y enfermedades infecciosas se esfuerzan por comprender una nueva enfermedad viral con implicaciones internacionales, los trabajadores de emergencias y otros profesionales de la salud necesitan información precisa para preparar a sus departamentos ante la posibilidad de encontrar pacientes infectados con el virus.
The Lancet
Brote de COVID-19: menos estetoscopios, más ultrasonidos
En nuestra opinión, el uso de ultrasonido es esencial en el manejo seguro de los brotes de COVID-19, ya que es capaz de permitir la ejecución concurrente de un examen clínico y una imagen pulmonar de cabecera por parte del mismo médico.
Hable con un Experto para Saber Mas
⚠️Nota: Clarius Ultrasound se pretende para su uso por médicos profesionales