Confirm COVID-Induced Venous Thromboembolic Disease with Handheld Ultrasound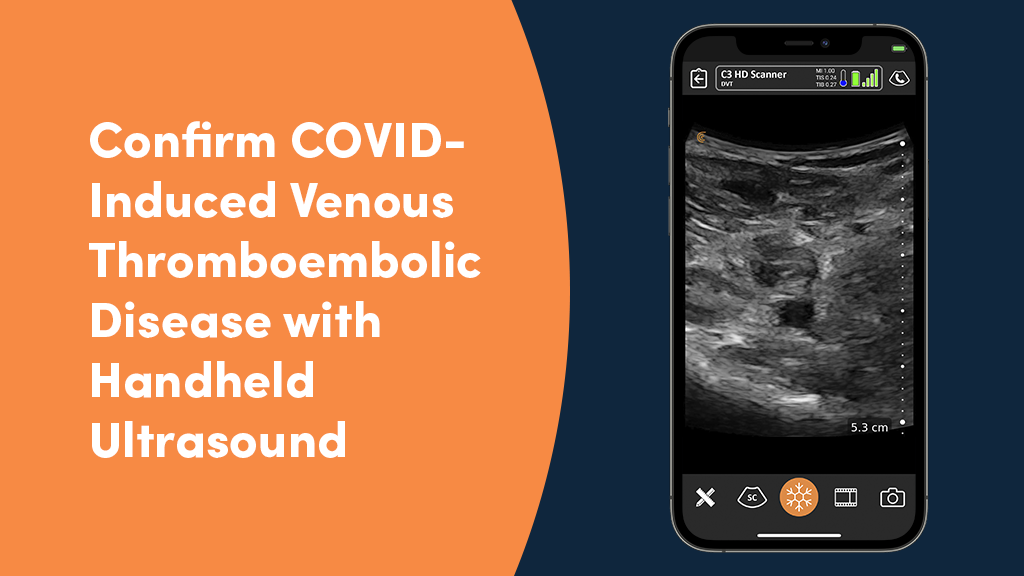 Watching for venous thromboembolic disease (VTE) in emergency rooms is common practice. With the presence of COVID-19, physicians are now reporting more VTEs, particularly in COVID patients in critical care.
"One thing of note is that the clots may form directly in the lung of COVID patients," said Dr. Shane Arishenkoff, an internal medicine physician at a hospital in Vancouver, British Columbia. "We see clots in the lungs without seeing them initially formed in deep veins. Nevertheless, the deep venous clots are still important in the context of COVID. And there is a lot of the evidence suggesting that we should be treating these patients prophylactically with full therapeutic doses of anticoagulation."
Dr. Arishenkoff also reported treating vaccine-related complications or VIT, vaccine induced thrombotic thrombocytopenia during an instructional webinar: POCUS for COVID and Beyond: Diagnosing Lung, Cardiac and Thromboembolic Diseases.
"It's a rare complication following adenovirus vector COVID-19 vaccines. It's similar to HIT or heparin induced thrombocytopenia. What's interesting is these patients may present with unusual clots such as those in the cerebral venous sinuses. But we also see clots in regular DVT patterns, as well as arterial clots."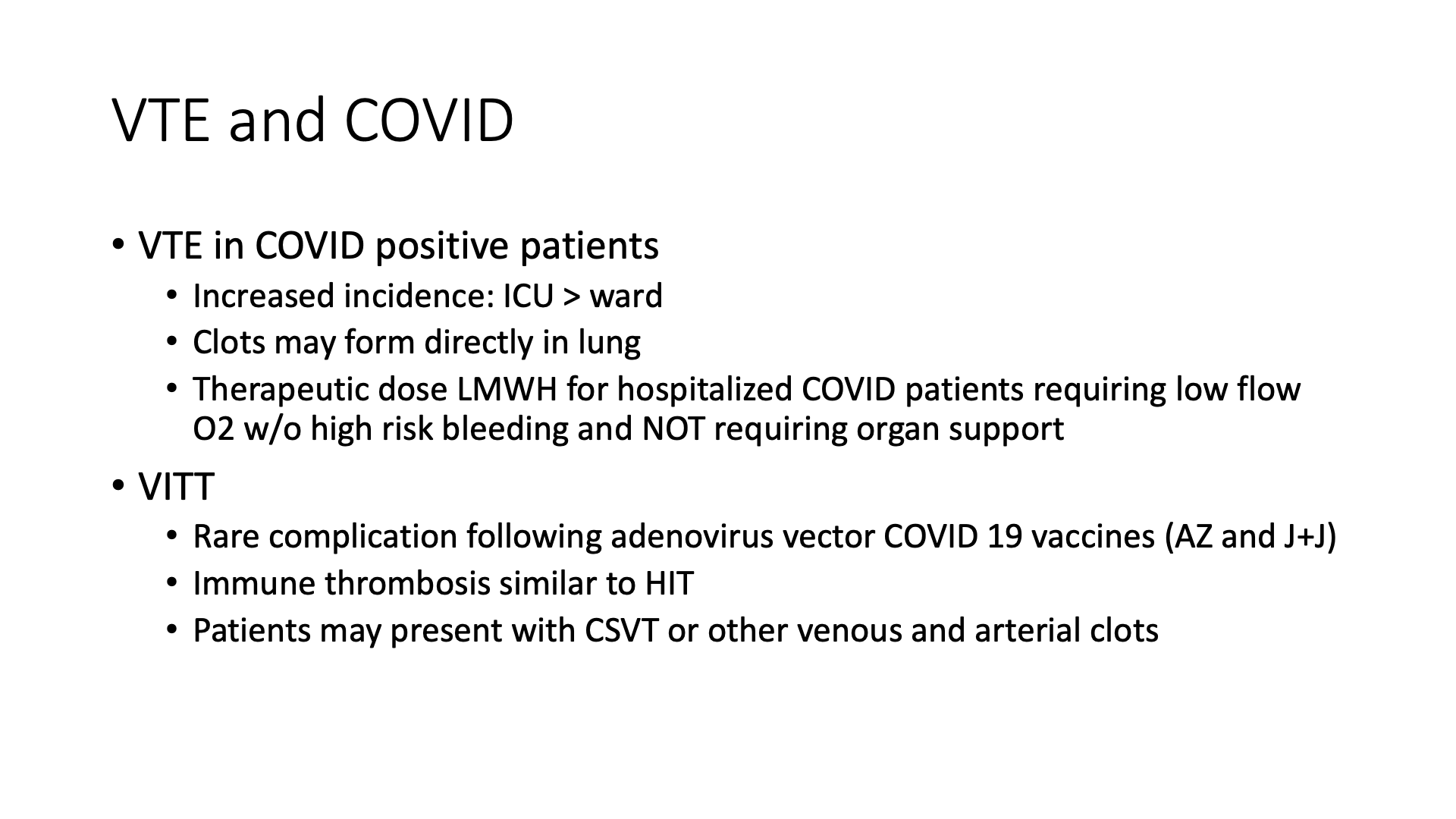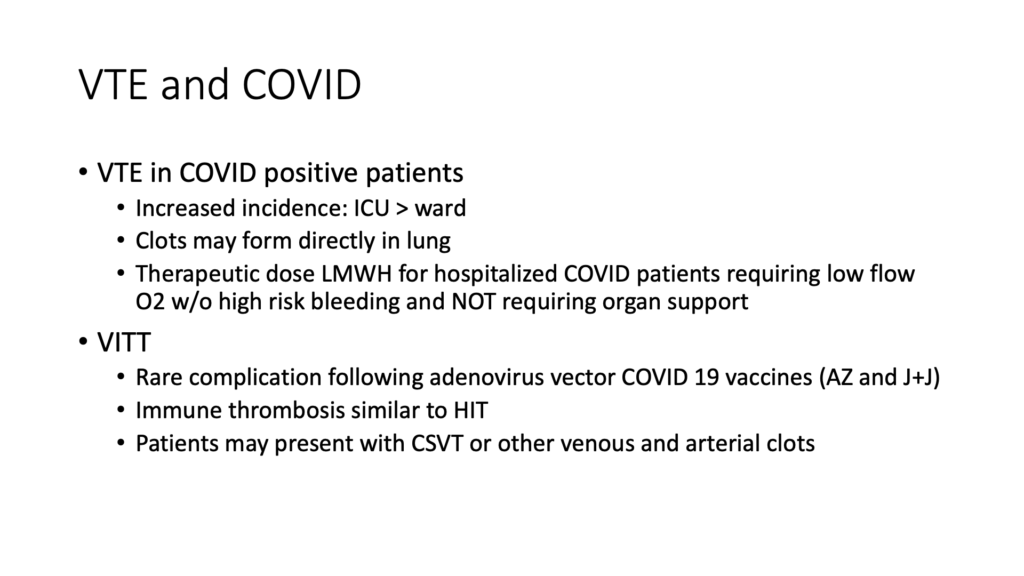 Watch the one-hour webinar for more insights from Dr. Arishenkoff about diagnosing and treating COVID in the emergency room. Read on for excerpts from the webinar from Dr. Arishenkoff about how to confirm blood clots using ultrasound.
VTE Can Be Diagnosed with B-mode Compression Exam
"Venous thromboembolic disease can be diagnosed with B-mode compression exams in two zones, looking at the femoral as well as the popliteal regions. Adding color is informative if you're looking to describe whether or not it's a completely occlusive clot, but it's not necessary to make the diagnosis. Following are examples of positive DVTs from recent cases.
Review of Positive Ultrasound Studies of DVT in the Leg
In the image above, we are looking at the proximal femoral vein. To perform the exam, Place the vein in the center of the screen and use the probe to compress the tissue directly overlying the vessel. In this clip we lose the lumen completely which rules out a clot at this position.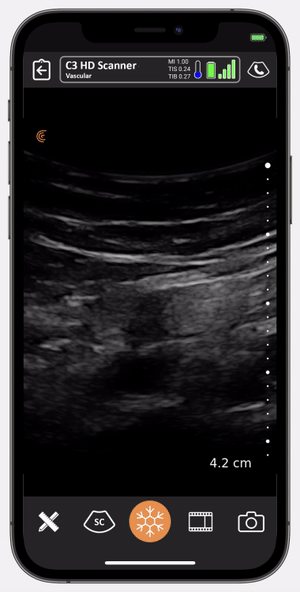 The examiner should continue with compression along the length of the vessel every cm or so. In this location, we arrive at a position along the vein where we can see that that femoral vein is not completely compressible. Notice we're starting to see that the artery is being indented which confirms we are using enough force to collapse the vein if there was no clot. As we continue down then, we see the same phenomenon where we're not seeing the collapse of that vein as we continue with compression.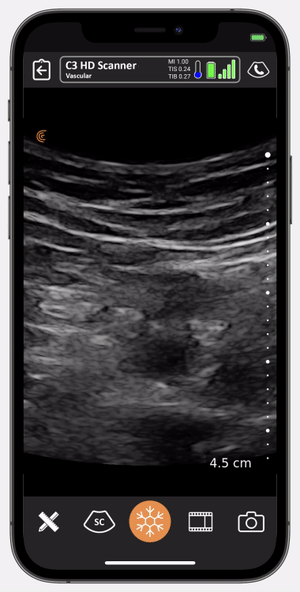 We could add color. Color isn't necessary, because we've already documented that there's a clot here based on inability to fully compress the vein. The absence of color suggests there's complete occlusion of this vessel.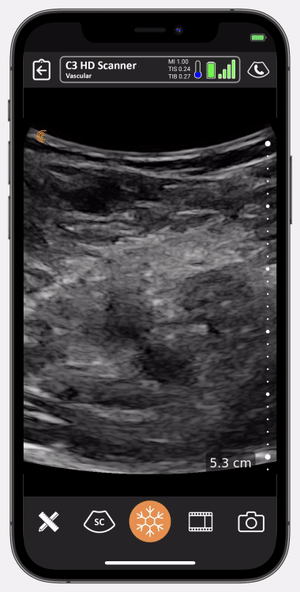 Once the femoral vein is no longer visible, we move down to the popliteal region. I think, "pop on top" or that popliteal vein is on top of the artery. And you can see that there is this echogenic material within the lumen of the vein. And once again, we see indentation of the artery with compression, without loss of the vessel lumen. This is a positive popliteal vein DVT scan.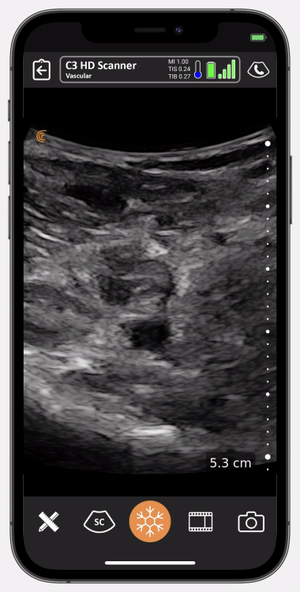 As we, continue compression along the vein we see the same thing. To complete the exam we must continue down to that trifurcation of the popliteal vein.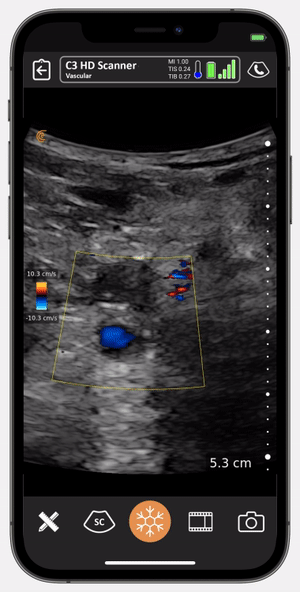 When we add color we see color flow in the artery, but a complete absence of color flow in the vein. Now, remember you can have color flow in the vein with a DVT, it just means that you don't have a full occlusion of the vessel at that particular region."
How to Scan for a DVT Using Clarius Handheld Ultrasound
In the brief video above, Dr. Oron Frenkel, an emergency physician and head of the Clarius Medical Advisory Board, demonstrates how to scan for a DVT. He starts in the groin.
"You can see we really want to find a single artery, single vein. So, you'll see the common femoral artery, common femoral vein, and you need to find a saphenous take-off in branching as your most proximal point. And you'll see that I'm compressing from there and going down the leg.
It's important to see the walls of the vein kiss and completely collapse as you're moving down the leg. The other part of the scan that's important is to make sure you get the full deep vein system by going to the popliteal artery and doing a compression there. Make sure the walls collapse and really kiss each other to make sure there's no thrombus inside."
About Clarius Ultrasound for Emergency Medicine
Wireless and app-based, Clarius delivers fast imaging and sharp detail at the point of care. Cover the scanner and your smartphone completely to reduce the risk of infection. Dr. Arishenkoff, MD, FRCPC used the Clarius C3 HD to capture the ultrasound clips and images he used for his DVT case study. Visit our Médecine d'urgence or Soins intensifs specialty page to learn more about Clarius handheld ultrasound for your practice. Or contacter pour today to request an ultrasound demo.
Ressources sur la Covid-19
Our team has put together some resources that may be useful for Clarius users who are treating patients during the COVID-19 pandemic.
Ressources sur la Covid-19
Our team has put together some resources that may be useful for Clarius users who are treating patients during the COVID-19 pandemic.